Inz Residence EC is the latest development located near Brickland Road District 23 and this EC is awarded to Qingjian Realty. Qingjian Realty has been active in Singapore's EC scene has is the developer of a number of ECs in Singapore. The location of Inz Residence Choa Chu Kang is excellent as it is located right next to the lush greenness of Bukit Batok. On top of that, it is just a couple of MRT stops away from the upcoming Jurong Lake District.
Inz Residence EC Project Details
| | |
| --- | --- |
| Project Name | Inz Residence EC |
| Address | Choa Chu Kang Avenue 5 |
| Developer | Qingjian Realty |
| Tenure | 99 years |
| District | D23 |
| Site Area | 16,386.1 sqm |
| Gross Floor Area | 49,158.3 sqm |
| No of Blocks | 9 Blocks |
| No of Storeys | 15 – 16 Storeys |
| No of Units | 497 Residential Units |
| No of Carpark Lots | 497 Lots + 4 Accessible Lots |
| TOP | 23 Aug 2019 |
TOP Date for Inz Residence EC
Owners can except the development to be ready in 2019 and will consist roughly around 497 residential units in 16 storeys in the development. The plot of land was launched by HDB on 19 May 2015 and the tender is closed with a huge 11 bids. The number of bids received were higher than expected considering that there are still many EC units available for sale in the market and the newly implemented mortgage service ratio may have impacted some buyers.
Inz Residence Amenities at Choa Chu Kang
Lot One Shopper's Mall

Lot One Shopper's Mall is located right next to Choa Chu Kang MRT Station and is a short distance away from Inz Residence Qingjian Realty. It start operations in 1997 and it is a popular mall as there is no immediate big scale shopping centre in the immediate vicinity.

Lot One Shopper's Mall is home to many commercial shops as well as eating outlets. It has also many achor tenants such as NTUC, Guardian and Watsons.
Please see Inz Residence EC site plan and floor plans for more information.
Qingjian Realty Inz Residence EC
Located right next to the greenness in Bukit Batok, owners can return home to a tranquil and serene living environment where plenty of amenities are available for the residents to use after a hard day's work. Owners can have a session of tennis with their family after work or relax at the club lounge that is air-conditioned to relax the day away. Nature lovers can also rejoice at the majestic view of the forest area along Brickland Road. Imagine having the flow of the water stream or the birds chirping while you are having a stroll really makes the day more smoothing and relaxing. Inz Residence EC is indeed a smart EC in a smart location. There are also other developments in the core city centre that is highly sought after such as Canninghill Square Condo Liang Court enbloc that is located at River Valley Road.
There are other developments located in the Bukit Timah area if ECs are not the one for you. For example, Juniper Hill Allgreen is a new condo that is located near to Sixth Avenue MRT Station as well as Bukit Timah Road. Juniper Hill condo will be available for viewing soon.
Despite not being near the MRT which most ECs are not, Inz Residence EC Choa Chu Kang Ave 5 managed to gather 11 bids by the close of the tender and this seems to be more than anticipated. It is noted that there are still unsold EC units around the area such as Sol Acres and Wandervale EC as well as other parts of Singapore and this would mean that there are will be more competition when it is launched. The Clematis SingHaiyi Condo is a new development at Jalan Lempeng by SingHaiYi Properties and is located near to Clementi MRT Station and 321 Clementi. The Clematis will be available for launch soon by SingHaiYi
Inz Residence Near Jurong Regional Centre
Keat Hong Shopping Centre

Keat Hong Shopping Centre has a wide range of amenities for the residents to use. For example, there exist a super mart, fast food restaurants, retail outlets and coffeeshops available.

Residents are only a short walk away from Keat Hong Shopping Centre. There is even a wet market available for the residents to use.
Location of Inz Residence EC at Choa Chu Kang
Sitting on a prime 16,386.1 sqm of prime land which is near to the upcoming Jurong East business district, connectivity to Jurong East and other parts of Singapore is a breeze due to the many transport options available. The TOP Date and launching price list is yet to be confirmed. With the Jurong Lake District poised to be the next central business district in Singapore and more retail and entertainment outlets are to be built around the region, Inz Residence Qingjian will appear to be a great investment considering that we are only 3 MRT stops away from Jurong East. Buyers are also a short distance away from Bukit Gombak MRT Station.
Lot One Shopping Centre near Inz Residence EC
Choa Chu Kang EC by Qingjian Realty is also near Lot One Shopping Centre and Sunshine Place as well as Choa Chu Kang MRT which is the interchange to the LRT system that links to Bukit Panjang as well as the Downtown Line with Junction 10 above. Also, it is a short drive away to Choa Chu Kang Bus Interchange. With entertainment outlets and transport options readily available near to Inz Residence EC, many buyers will be keen move in to this new development for sale and call this their new home. The development is also near to Warren Golf Country Club as well as the commercial shops at Keat Hong Mirage BTO.
Why Inz Residences as your new home
Benefits of Inz Residence EC Smart Home
First EC in Choa Chu Kang to have Smart Home Features

Qingjian Realty has incorporated smart home features in iNz EC and these are smart living technology that streamline the needs of the residents. These include using your smart phone to control the air-conditioner as well as automatic light sensors.

iNz Residence close to Choa Chu Kang MRT Station and Bukit Gombak MRT Station

The development is close to both MRT stations which is just a few minutes drive away. Brickland Road is a 3 lane road and therefore there will be less congestion when you are driving to and from your home.

Cospace Layout for different lifestyle needs and family sizes

Qingjian unique cospace layout give buyers the flexibility to configure the layout for their dream home. More space can be given to the study room or to the master bedroom. The space is there fully optimize to suit to your needs.

For buyers looking at bigger units, Qingjian Realty has included the 5 Bedroom Maisonette layouts which are very spacious at 1,711sqft. The site plan also shows that almost all the units are in the North South orientation. It is also either unblocked, facing greenery or pool facing.

Lot One Shopping Mall just a few minutes away

Lot One Shopping Mall is a popular shopping centre in the North West region of Singapore where many residents in Choa Chu Kang as well as the Bukit Batok Town Residents. Lot One is popular as it is situated in a huge catchment of residents living in the Choa Chu Kang and Bukit Batok area. Several anchor tenants are located in the mall which include NTUC as well as Watson's.

Lot One also has cinema operated by Shaw Cinema and is a huge draw for the younger and trendy crowd. The mall is also easily accessible as it is link to Choa Chu Kang MRT, Choa Chu Kang LRT as well as Choa Chu Kang MRT Station.

Upcoming Jurong District near to iNz Residence EC

It has been announced in the Master Plan that Jurong will be next Central Business District in Singapore. Also, Jurong Lake District be the Terminus of the High Speed Railway and therefore residents of iNz Choa Chu Kang will be able to enjoy the communal and retail facilities at the Jurong district area. It is in the government plans to expand the commercial and retail facilities in this area. Inz Residence will be near to the Tengah MRT Station on the Jurong Region MRT Line

Reputable Developer Qingjian Realty with vast experience in EC Development

Qingjian Realty is a very active developer in the Singapore real estate scene. It has developed numerous properties in Singapore and is in particular, very active in the Executive Condominium sector. Qingjian Realty is the developer for many ECs such as newly TOPed Ecopolitan. It is also the developer for other ECs in Singapore such as Bellewoods and Bellewaters.

There are also many quality private condo projects such as River Parc Residence, Natura Loft, Nin Residence and Riversound Residences. Qingjian Realty's vision of becoming Singapore's household brand developer is back by many of these iconic projects in Singapore.
Location of Inz Residence EC at Choa Chu Kang
Located Right Next To Tengah Forest Town – Singapore's Newest & Largest Smart, Sustainable Town.
Close Proximity To Jurong Innovation District & Minutes' Drive to Jurong Gateway.
Seamless Connectivity To Shopping, Dining & Entertainment Amenities e.g JEM, JCUBE, Westgate, IMM, Jurong Point,
Near Bukit Panjang Integrated Transport Hub (complete in 2017) with an air-conditioned bus interchange seamlessly linked to Downtown Line MRT station (DT1)and LRT Station (BP6).
Direct train to City Centre.
Close To Major Integrated Healthcare facilities in the West e.g Ng Teng Fong General Hospital & Jurong Community Hospital.
Near To Choa Chu Kang MRT Station, Lot 1 Shopping Mall, Junction 10 Shopping Mall & Bukit Panjang Plaza.
Close Proximity To Prestigious Schools – Choa Chu Kang Primary, De La Salle School, Bukit Panjang Government High School, Pioneer Junior College, NUS High, River Valley High, Dulwich College & NTU.
Easy Island-wide Access Via Major Expressways e.g KJE, BKE & PIE.
Be Part Of The Jurong Lake District Transformation (2nd CBD in Singapore).
Smart Home Concept for Inz Residence EC Owners.
Hi Life App for making facilities booking online on virtual concierge. Save the hassle of calling.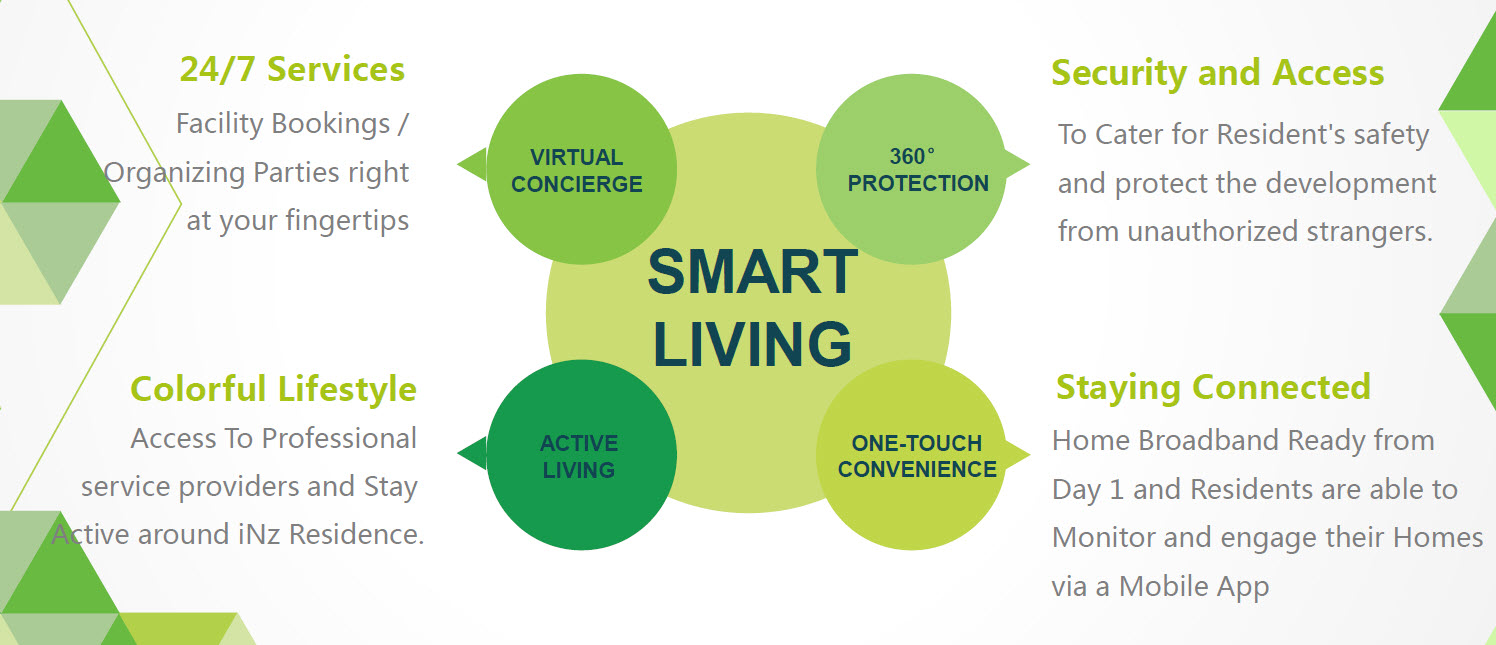 Qingjian Realty Choa Chu Kang EC
For owners who are taking public transport, Inz Residence new EC is a short distance away from Choa Chu Kang MRT Station and Bukit Gombak MRT Station. Owners also have access to the buses along Choa Chu Kang Ave 5. With transport options aplenty and many shopping centres at the disposal for Inz Residences EC owners, this is truly a home in a lush forest oasis. Inz Residence EC will also be near to the Jurong Region MRT Line (JRL) which is the seventh MRT Line in Singapore that will complement the existing North South Line as well as the East West Line.
Connectivity to Jurong East is also very convenient as Inz Residence Qingjian Realty is only 3 MRT Stops away from Jurong Lake District where the High Speed Railway Terminus is to be located. According to the URA Masterplan, Jurong is to be transformed into the next business district in an effort to decentralize the Central Business District. This brings great value for investment for the buyers as Choa Chu Kang is only a short distance away from Jurong East and is only 3 MRT Stops away.

Choa Chu Kang Inz Residence EC
| | |
| --- | --- |
| | Serene and quiet location in the heart of Choa Chu Kang. Good facing of forest area along Brickland road. |
| | Located a short walk away from Sunshine Place as well as Keat Hong Shopping Centre. |
| | Established developer with a track record for ECs in Singapore as well as the international real estate scene. |
| | Easy access to other parts of Singapore as Kranji Expressway (KJE) is located just minutes away. |
| | Short drive away to the upcoming Jurong Central Business District in Singapore. |
| | Full resort facilities with lush greenary facing provides a tranquil living lifestyle amidst hectic city life. Comes with Smart Home Concept and Spectacular Sky Garden |
| | Various layouts with different number of bedrooms to suit the busy professionals or large family. |
Inz Residence EC Choa Chu Kang Ave 5
In an effort to increase the population of Choa Chu Kang to cater to the increasing population, the government has build more roads as well as plan more plots of land in Choa Chu Kang for housing purposes. Schools are also built around Choa Chu Kang Town as well that is near to Inz Residence EC. For example, Choa Chu Kang Primary School, Bukit Panjang Government High School as well as Southview Primary School is located just a few minutes drive away from the development. For tertiary education, ITE College West (Choa Chu Kang) and Pioneer Junior College is also located around in the area for Concord Primary School. It is also near to Choa Chu Kang Polyclinic.
Bukit Panjang Transport Hub
Bukit Panjang Transport Hub

The Bukit Panjang Integrated Transport Hub offers residents of Inz Residence EC an unparalleled convenience in transportation experience to the Central Business District as well as the Bugis area. Hillion Mall is also integrated with the transport hub that offer retail amenities to the residents.

The hub will be directly connected to Bukit Panjang MRT Station and will be opening in 2017 which is earlier than the projected TOP Date of Inz Residence EC.
Bid for Tender Site at Choa Chu Kang by Qingjian Realty
The bid of $156 million is 6.6% higher than TID Residential whose parent company is Hong Leong Holdings. The margin might came as a surprise as despite the number of bids, the margin is significantly higher than the previous bidder which suggest that Qingjian Realty is very positive on the location of the plot of land. Qingjian Realty is a developer that is very active in the property scene and based on local forums it is the developer for many private properties as well as ECs in Singapore. The pricing psf is also very competitive. Some of its notable projects are Ecopolitan EC in Punggol as well as Bellewaters EC in Sengkang. Both are very well received and almost fully sold by the developer.
Driving to and from Inz Residence EC based on reviews and brochure map is also a breeze as the development is located right next to Kranji Expressway (KJE). There is no need for car owners to go through many major or minor roads and this will cut down traveling time significantly from the development.
Other New Launches
Daintree Residence S P Setia International is a new development next to Beauty World MRT Station. It is located at Toh Tuck Road.
New Development at Bukit Timah Mayfair Modern can be found here. Mayfair Modern Oxley is the former Mayfair Gardens Enbloc located at King Albert Park.
Please also see new developments that is located right at the heart of the city which is The Reef Harbourfront Avenue Condo. The Reef is located near to Reflections @ Keppel Bay and is located near to Vivocity MRT Station.
For core city developments, please also see the latest that we have which is located at Newton Food Centre. Kopar at Newton CEL will be for sale soon and located right at the heart of Newton MRT Station.
Please also see new development Parc Clematis Condo at Clementi MRT Station. Parc Clematis is located in the heart of Clementi and is by the developer SingHaiYi Properties.
Please also see Parc Canberra at Canberra MRT Station which is located near to Canberra Link Plaza. Parc Canberra is a North EC and takes after Bellewoods and Parc Life.
The Verandah Residences Oxley Holdings is a freehold development near to Haw Par Villa MRT Station. The Verandah Residences will be launching soon at Pasir Panjang Road.
Dairy Farm Residences mix development located at Hillview Avenue. Dairy Farm Residences UED Residential is a new development at Hillview Avenue.
The Antares Hock Lian Seng Holdings new development at Circle Line Mattar MRT Station. The Antares is due for launch soon in 2019.
Bukit Timah Collection Allgreen Properties is a new freehold development located next to Sixth Avenue MRT Station. Bukit Timah Collection is the former Royalville that was enbloc and collectively sold to Allgreen Properties.
Twin Vew Condo Jurong near to Jurong Central Business District at West Coast Vale. Twin Vew Jurong is by the developer China Construction Development.
Please see 8 St Thomas New Condo at Great World City MRT Station. 8 St Thomas will be launching soon by Bukit Sembawang Estates Limited.